Would you like better relationships, a happier and healthier life filled with peace, empowerment and freedom - all for the price of a book instead of years of expensive therapy and courses?
Then you need: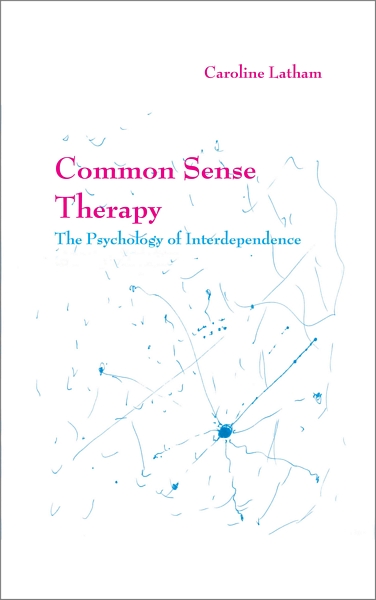 Common Sense Therapy
by
Caroline Latham
Common sense therapy you can easily apply to your life - starting today
Caroline's book helps you heal your life with practical, easy-to-follow advice that includes the inner wisdom we all already have but may have forgotten.
Written in plain English, this book debunks and demystifies the language of "therapy-speak". There's no need to wait for an appointment with a therapist or visit a counselling centre. You can start to heal yourself right now in the comfort and privacy of your own home, and at a fraction of the cost.
Using her 30+ years' experience of therapeutic work, plus anecdotes, humour and heartfelt words, Caroline helps you not only rediscover the power of your mind but also shows you the healthy habits of mindfulness that ensure you'll never again feel lost in life.
Change your mind and change your life
In each chapter, filled with insights, empathy and warmth, Caroline shows you that how you think shapes the life you live - and shows you how to change your thoughts and perceptions to create a life full of more happiness, success and wellbeing.
In Common Sense Therapy you'll discover how to:
Transform your negative thoughts and worries
Take control of your emotions
Find peace and inner strength
Manage your stress and anxiety
Take charge of your depression
Let go of childhood and past traumas
Unlock your creativity and mindfulness
Improve your overall health and happiness for greater longevity
No matter who you are, your age, background or problems, this book will help you feel better and live better - guaranteed.
Praise for Common Sense Therapy
If you would like to rediscover the wisdom you already have but may have forgotten, for the price of a book rather than years in therapy, this is for you. If you are stuck in a rut, unhappy, confused, angry, or simply questioning - or know anyone who is - get this book. The advice is practical, easy to read, based on life experience and written in a humorous way. Enjoy!
Caroline Latham has been a therapist for nearly three decades and is the author of two books.
"This wonderful book is the distillation of wisdom, gathered in a lifetime of therapeutic work. If you've never had the privilege of meeting Caroline, getting this book is the next best thing. Highly recommended."

Dr Max Zöttl
Consultant Psychiatrist
"Sipping Caroline's fragrant but earthy blend of anecdote and wisdom - brewed from her experience not only as as a therapist but also of a life lived richly, sweetened with humour, and fortified by a distillation of her teachers' insights - many people will surely feel refreshed, nourished, comforted, and inspired."

Dr. John Canti
Medical Physician
"Caroline Latham has a way of cutting through to the essential that is unique and reveals itself in our everyday lives."

Joanna Jones
Heal your life and help heal others' lives too
Caroline publishes this book as an e-Book through Amazon. 100% of the funds received by Caroline - every single penny - goes directly to her chosen charity - The Kangyur Rinpoche Foundation. Nothing is spent on administration or "red tape".
The Kangyur Rinpoche Foundation is a UK registered charity close to Caroline's heart. It is dedicated to providing humanitarian aid in the Himalayan regions, helping many orphanages with vital supplies, restoring damaged buildings and building a peace stupa in France which her teachers have confidence will help avert natural disasters in the world. The Foundation is currently raising urgently needed funds to help the victims of the April 2015 Nepal earthquake that devastated much of the country.
Buy this book and you'll not only help yourself, you'll also help many other people too - your purchase will directly help to alleviate suffering in the world. For more information about the Foundation, please go to:
Canterbury Tibet Link
www.songtsen.org
This book will inspire and enlighten you, and give you the tools you need to take control of your life. It will also help you help others - especially if you spread the word so as many people as possible can benefit from the book's wisdom and proceeds.
So, buy your copy of Common Sense Therapy today and "pay it forward" by telling others about this inspiring, life-changing book.
May it benefit far and wide!
| | | |
| --- | --- | --- |
| | Buy now at Amazon.co.uk :-&nbsp&nbsp&nbsp | |
| | Buy now at Amazon.com :-&nbsp&nbsp&nbsp | |
| | Buy now at Amazon.fr :-&nbsp&nbsp&nbsp | |
| | Buy now at Amazon.ca :-&nbsp&nbsp&nbsp | |
| | Buy now at Amazon.de :-&nbsp&nbsp&nbsp | |
| | Buy now at Amazon.it :-&nbsp&nbsp&nbsp | |
| | Buy now at Amazon.nl :-&nbsp&nbsp&nbsp | |
| | Buy now at Amazon.com.au :-&nbsp&nbsp&nbsp | |
| | Buy now at Amazon.com.br :-&nbsp&nbsp&nbsp | |
| | Buy now at Amazon.co.jp :-&nbsp&nbsp&nbsp | |
| | Buy now at Amazon.com.mx :-&nbsp&nbsp&nbsp | |
Alternatively, or in addition, you may wish to make a donation to the Kangyur Rinpoche Foundation directly. If so, please click here: