Caroline Latham can help you to become

happier

, understand

relationships

more, and

heal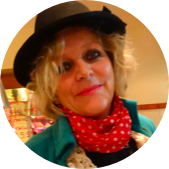 Intuitive counsellor, coach, long-term mindfulness practitioner, healer and author offers positive psychology with compassion and mindfulness training to improve quality of life and emotional understanding of yourself and your relationships.
Her entire professional practice is devoted to helping people develop the inner tools for more happiness and dissolve obstacles to well-being and success. She has trained in numerous forms of integrative medicine and psychology models, combining the knowledge and techniques she has learnt to provide the most effective means for mental and emotional conflicts to be transformed into positive ways ahead.
Caroline has successfully treated thousands of individuals and taught mind training and mindfulness awareness skills to many groups over the past three decades both in the UK and internationally.
Consultations available by appointment in North London, the East End, Canterbury and globally on Skype.